[EN]CODING ARCHITECTURE 2013
[wpcol_1half id="" class="" style=""]
a conference on
the autonomy of architecture I code I fabrication I material morphology I robots I machinic desire and a computational theory
The architect is no longer an organizer of matter and space, but a designer of systems with multi-layered components and complex relationships. [En]Coding Architecture 2013 brings together rising superstars, experienced researchers and designers to present experimental work derived through computational thinking and digital making. [En]Coding Architecture 2013 positions the field of architecture as an alloy of programming, digital tooling, art and science. The conference synthesizes new trajectories for the profession in a cybernetic context of tectonics, cultural philosophy, architectural theory and geopolitics. Undeniably, there is a global desire to re-discuss architecture now. Come and join the discussions for the evolution of architecture….
…………………………………………………………………. ………………………………………………………………….
News::  Due to severe weather in the NY area, Inge Rocker, Andreas Trummer and Daniel Shiffman will not be able to come. Daniel's workshop will take place.
Lars Lerup lecture is cancelled due to illness. We do apologize.
registration for the conference is free……………………

registration for conference and workshops is open…..

call for projects is closed now……………………..
tickets are limited
registration is necessary please register here………..
all event news can be found here.………………………
………………………………………………………………….
followed by a warm up debate with
Friday am workshops on robotics and processing
Friday pm lectures
Friday evening conference dinner (additional ticket required)
Saturday am workshops on robotics and the nature of code
Saturday pm lectures
Saturday evening retrospect
work in progress presentations I student travel grants I exhibition I panel discussions
[/wpcol_1half] [wpcol_1half_end id="" class="" style=""]
SPEAKER
SANFORD KWINTER harvard gsd
ERIC GOLDEMBERG monad studio I fiu

DANIEL SHIFFMAN nyu tisch

LARS LERUP I rice
SEAN AHLQUIST michigan I stuttgart

WARREN NEIDICH delft
NEIL LEACH I usc

WES MCGEE michigan

20130208_Schedule_EnCoding_Architecture_2013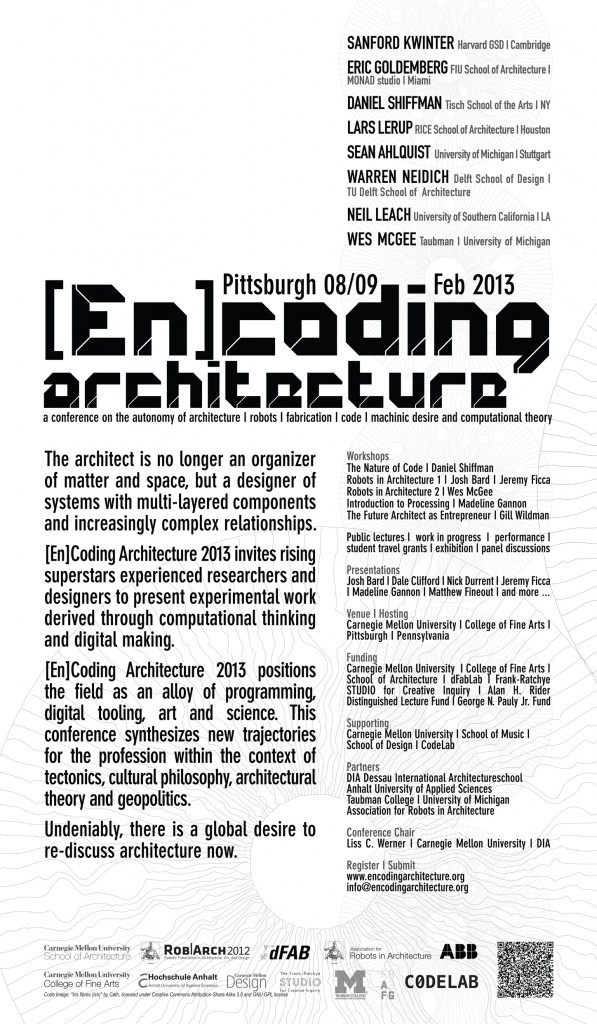 [/wpcol_1half_end]